Beyond expectations and to my amazement, Charm El-Cheikh located in Egypt's Sinai Peninsula charmed me. I have never thought that the ocean could be that close to the desert until the day I visited it.
Let us go back in time and revisit the most wonderful moments etched in my memory and explore the city where the Desert Mountains meet the Red Sea. Here they are, facing and admiring the beauty of each other.
My First snorkeling Experience at the "Blue Hole"!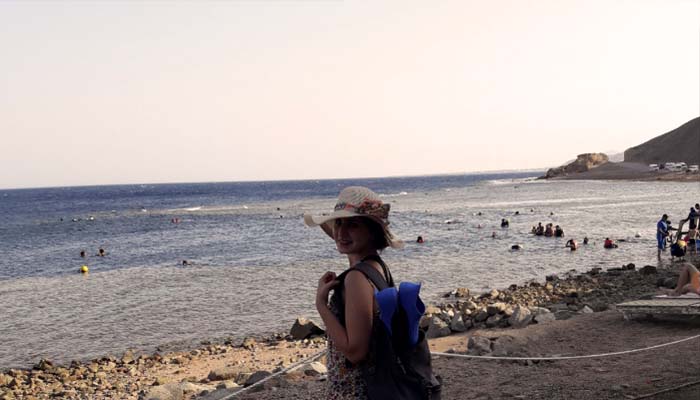 The Blue Hole is an underwater sinkhole, located a few miles north of the city of Dahab. When we reached it by jeeps, the tour guide told us that many divers died in its depths. And that it is one of the most dangerous dive sites on the planet, and I have to admit that what he said had just boosted my adrenaline and ignite me to enter the war zone.
I put on my snorkel mask, my palms and without any life jacket and I went for it. The beginning was extremely hard since we had to climb rocks to reach the sea. However, once I got there and placed my head below the water, I've almost cried due to the deep incredibly blue sea and its breathtaking colorful creatures.
Now, let's get a little deeper!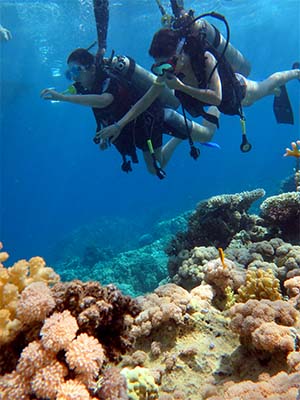 After getting used to the red sea, I decided to discover its bottom through the scuba diving in the Tiran Island, it took us an hour and a half boat ride from Sharm el-Sheikh to reach the location, accompanied by my cousin and the dive guide, we started to go deeper and deeper. And what an epic trip! The red sea is, in my opinion, one of the most colorful & exotic oceans in the world, as it combines endless corals with different types of weird and beautiful fishes.
Ladies and Gentlemen, on your quad bikes!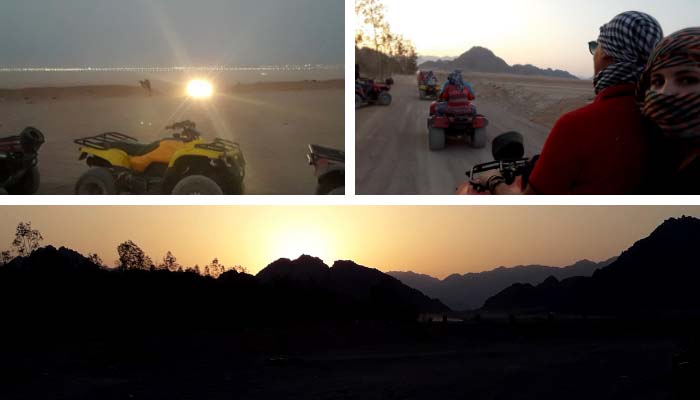 No one can deny that the desert is a highly dry land where there is almost no sign of life, however, it is starkly beautiful, we've crossed the Sinai desert on quad  bikes and fly over the dunes to be finally able to watch a fascinating sunset and  share dinner with Bedouins in the middle of nowhere.
It was like we were living an Egyptian movie with the "happily ever after" script, the kind of movie that makes you feel sad because it is OVER.
Did you visit Egypt? If you did feel free to share your experience in the comment section.
-Salma.J-